Welcome to www.BATW.net - Bonnie Dalzell's collection of various projects page
| | |
| --- | --- |
| Plush Cthulhu and the Hound of Tindalos return from Mardi Gras | Plush Cthulhu on His Eldritch Throne [with friend]. |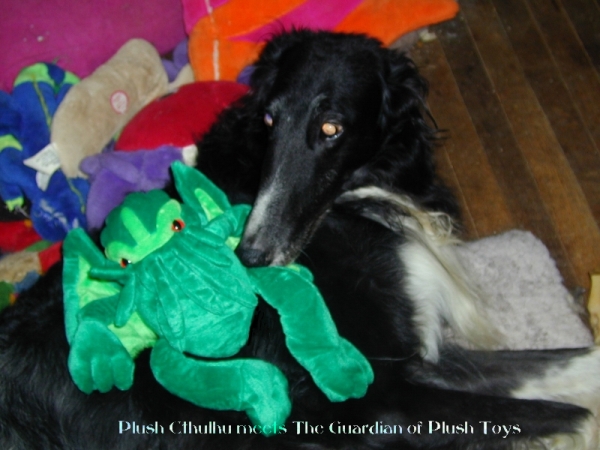 Plush Cthulhu meets The Guardian of Plush Toys
Follow this link to:
Tales of the Plush Cthulhu
and sources for Plush Cthulhu at
Paizo
For an understanding of Cthulhu see: The Compleat Works of
H. P. Lovecraft
on line.
BATW.Net Web Page Construction Articles
Color Blindness and Usability on the Web The List of HTML LESSONS
An Introduction to Web Page Construction Tutorial on constructing a simple web page.
Tips on Site Design avoid some common errors.
GIMP Tutorial In Pictures on Adding Text to a Picture
. Unofficial Beginner's Tutorial to DM2 an Amiga File Manager.
Mirror of Source Files for Gary Coleman's Amithlon 204 kernel - date Dec 16, 2005
Notes and examples about PERL on the Amiga.
The New Batw.net Humor Page
How you can help fight spam and phishing
. My New AMIthon Computer April 2004.




Pictures of 17 year Locusts (Cicadas) at Hydes Maryland in 2004.
Sans Souci Nursery Archive A Tribute to Bruce Hornstein's Iris Nursery, which used to be near my house.
Borzoi pages Borzoi among the lovelist of dogs. They could be thought of as "the Iris of the dog world".

-->
Nature, Natural History, Art
Dog Related Links
Computer related Links
Sans Souci Nursery
In Maryland, home of fine Irises, Dahlias and selected other plants for your garden.
Borzois.com
Borzoi information site. Including articles by Bonnie Dalzell on coat color and performance
Ubuntu Linux
Free! Easy to install, easy to use, independent of Micro$oft, open source operating system which can revive your older computer.
Pictures of 17 year Locusts (Cicadas) at Hydes Maryland in 2004.

Madagascar Coton de Tulear Club of America
An independent breed registry with scientific guidance to promote the breeding of temperamentally sound healthy companion dogs.
BATW.net, Bonnie Dalzell's computer related pages Includes Humor, HTML Lessons and Perl Lessons
Beautiful pictures of Trilobites from Ernst Heckel's Kunstformen der Natur.
Bonnie Dalzell's collection of Borzoi Pedigrees online.
Over 50,000 pedigrees with ancestors color coded.
BATW.net, Web Page Construction Lessons
Bonnie Dalzell's online portfolio
Strange and Future Beasties
The Dog Dimension: Discussions of population genetics in relation to breeding fit, healthy dogs
Bonnie Dalzell's Perl Scripts, Perl Lessons and Perl Links
Silkenswift Borzoi pages Somewhat outdated website for Bonnie Dalzell's Borzois
---
BATW.net
Web Developement
CGI Programming in Perl
5100 Hydes Rd
Hydes, MD 21082
410-592-5512
or
by electronic mail
bdalzell at Q I S dot net
resist spam